Activities in 2013
Judges Consultation Workshop Held on Nov 23, 2013

A Consultation Workshop with Judges of Khyber Pakhtunkhwa, organized by SACH-Struggle for
Change, was held on 23.11.3013 at KPK Judicial Academy Peshawar. Purpose of the workshop was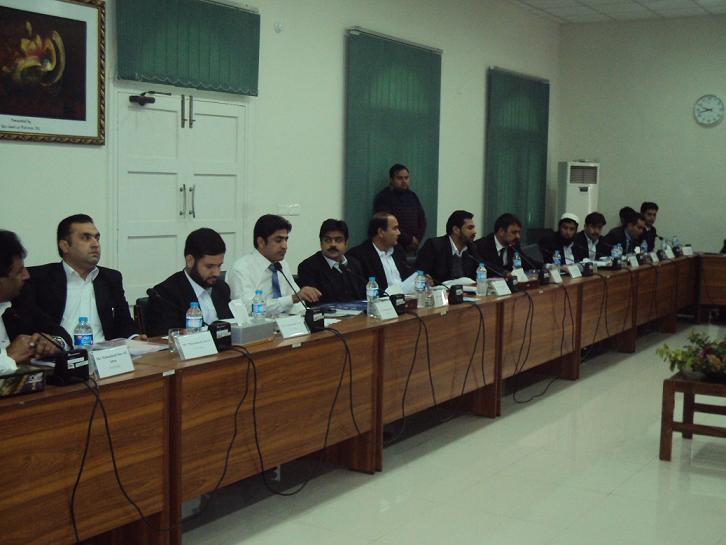 consultation and discussion with learned Judges of Khyber Pakhtunkhwa regarding the role of
SACH and UNHCR in human and refugee rights, current status of refugees in Pakistan, role of
NADRA for refugees and the Role of Judiciary in effective implementation of Women Protection
Laws. About 30 participants attended the workshop, comprising Civil Judges, Magistrates,
Additional District Judges and District Judges from Khyber Pakhtunkhwa.
The following resource persons for delivering lectures on different topics attended the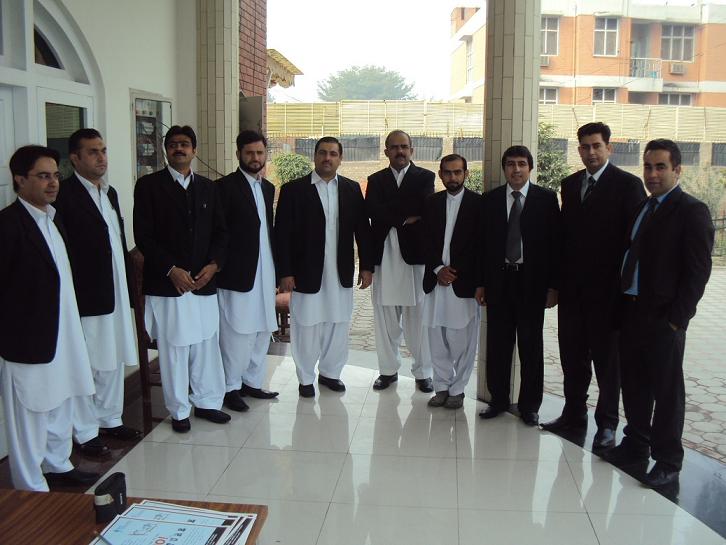 Workshop:
1. Mr. Jabran Nazeer, Home Department Khyber Pakhtunkhwa, Peshawar
2. Mr. Fawad Amir, Protection Officer UNHCR, Sub-office, Peshawar
3. Mr. Inam Ullah, Assistant Director, NADRA, Peshawar
4. Mr. Zia Ahmad Khan, Principal Trainer NIPA
5. Mis Uzma Mehmoob, Lawyer (resource person)
Divine note started the proceeding of the workshop followed by a welcome address by Khalida
Salimi, Executive Director, SACH Islamabad. She briefed the participants on the role of SACH
as an outspoken mouthpiece for the cause of human rights, and as Implementing Partner of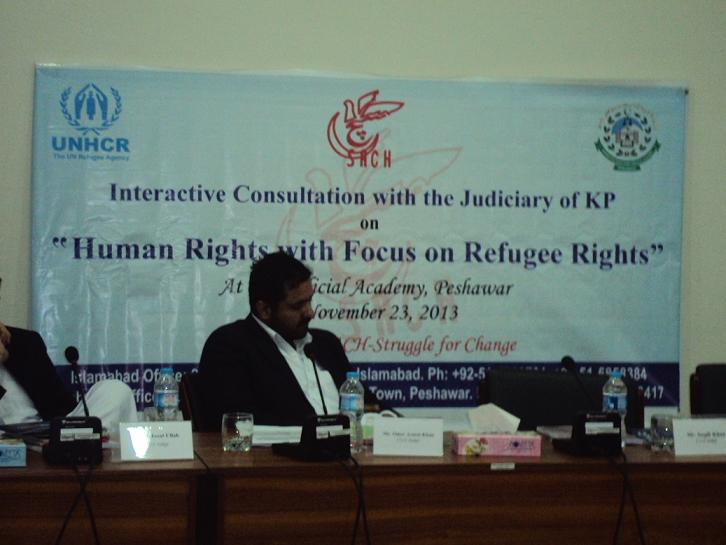 UNHCR in protecting the refugees.
Mr. Jabran Nazeer, Home Department KPK Peshawar informed the participants about the
government policy regarding the Management and Repatriation of afghan refugees. He added that the Tri-partite agreement between Pakistan, Afghanistan and UNHCR guides and regulates
the repatriation and management of registered Afghan refugees (PoR card holders) inside
Pakistan and the said agreement has been extended upto 31st December 2015.


Mr. Fawad Amir, Protection Officer, UNHCR Sub-Office, Peshawar said that UNHCR is working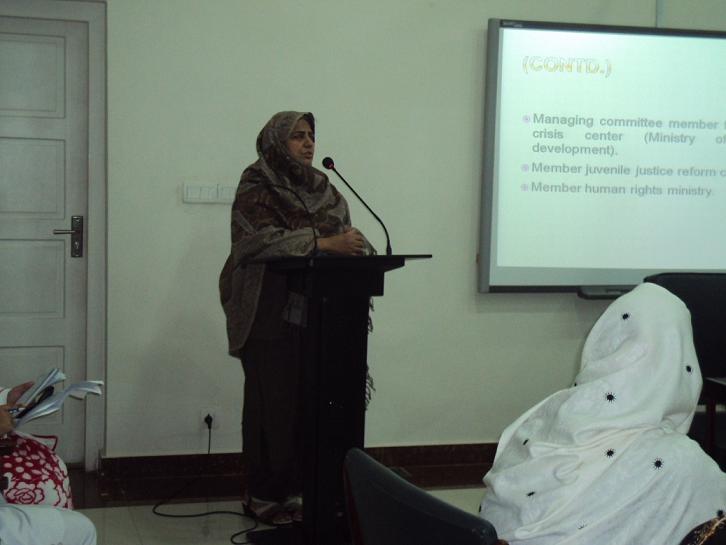 with the Government for the protection of refugees. He added that there is Refugee Status
Determination (RSD) system with UNHCR, which recommends persons to the government and the
government is the final authority for giving the status of refugee to a person and to get
him/them registered.


Mr. Inam Ullah, Assistant Director informed that NADRA has been working with UNHCR since
2006 on the projects, (1) Afghan National Registration (ANR), (2) Voluntary Repatriation of
Afghan Nationals (VRA), (3) PoR Card Modification (PCM), (4) Secure Card for Afghan Citizens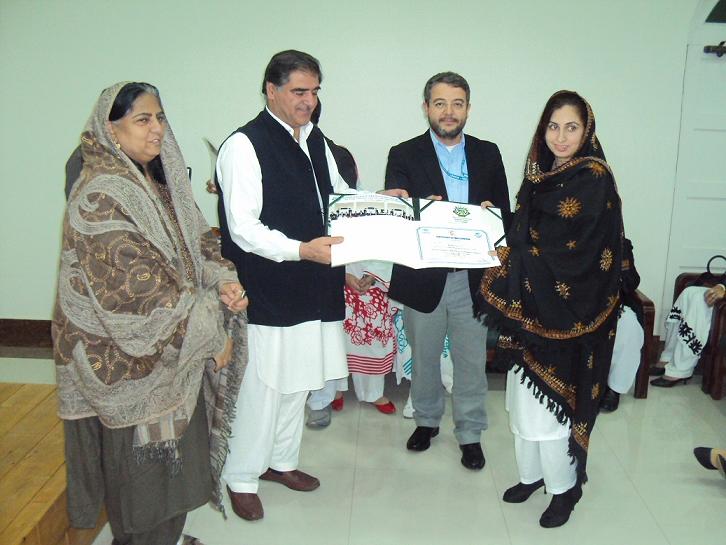 (SCAC). He further informed that for the facilitation of refugees, NADRA has setup 6 PCMs
across the country in Peshawar, Haripur, Rawalpindi, Lahore, Quetta and Karachi and 2 VRCs
in Peshawar (Chamkani) and Quetta.

Mr. Zia Ahmad Khan, Principal Trainer (NIPA) delivered a lecture on Stress Management. His
stress advisory was to train pressure hormones in enabling way to control at source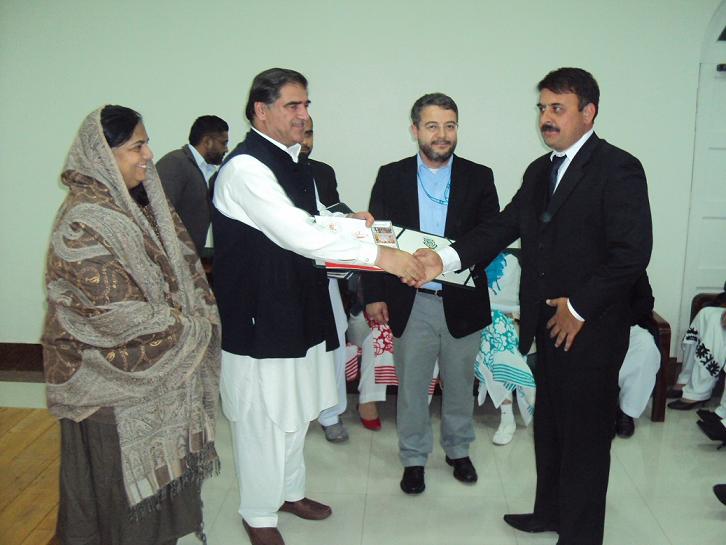 excitement and increase motivational pull to meeting tight deadlines, targets and condition.
He declared justice sector institutions are overburdened having round the clock job which
ultimately produce stress on them. His stress management techniques were very effective, and
praised by the participants a lot.

Miss Uzma Mehboob, Lawyer (resource person) delivered a lecture on the Role of Judiciary in
effective implementation of Women Protection Act. She quoted article 25 (Equality of
Citizens) of the Constitution of the Islamic Republic of Pakistan, which says that all the
citizens are equal before law and equal protection of law and there shall be no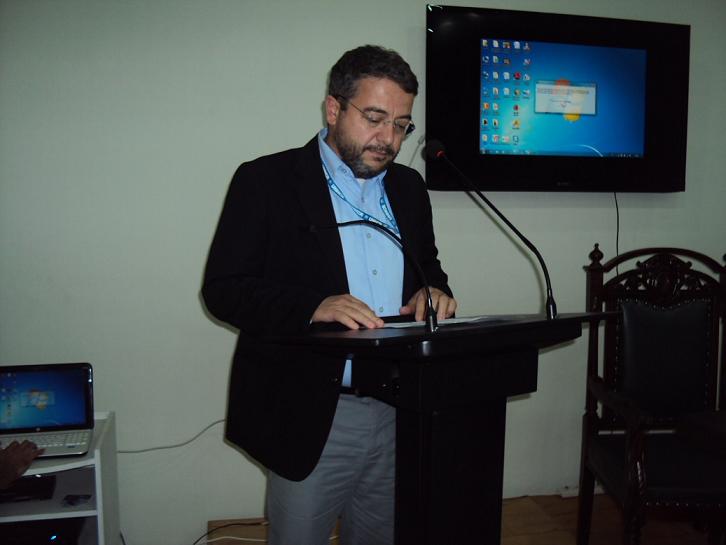 discrimination on the basis of sex. She discussed CEDAW, CRC, International Covenant on
Economic, Social and Cultural Rights, as international commitments. Miss Uzma further
discussed the Pakistani laws providing for protection of women, like Honour killing law,
Protection against Harassment of women at the Workplace Act, 2010, Prevention of Anti-Women
Practices Act, 2011, Acid Control and Acid Crime Prevention Act 2010, Prevention and Control
of Human Trafficking Ordinance (2002), Family laws, etc. the participants took interest on
the subject and put different questions which were effectively answered.

Miss Uzma advanced the role of judiciary in the following lines:
• Like prosecutors and police officers, judges play important roles in the legal
system;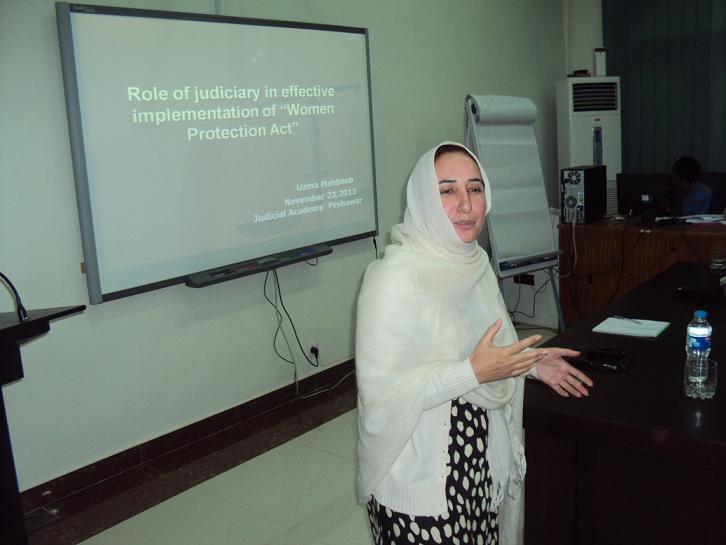 • Judges are generally the final authority in civil and criminal matters;
• Judges hold substantial power to deal with cases effectively;
• Protecting women, will send message to the community and the victim, that violence
will not be tolerated;
• In the courtroom, judges are enforcers and interpreters of existing laws;
• Sensitivity to gender issues among the police and the judiciary;
• Investigation mechanisms and quality of investigation;
• Medico legal reports;
• Delay in justice is not only a challenge but poses a serious threat to the civil and

Criminal Justice System;
• Frequent adjournment of cases should be avoided;
• Justice demands equity, equability and fair play.

At the end of the workshop, Khalida Salimi, the Executive Director SACH extended a vote of
thanks to all the participants especially Mr. Hayat Ali Shah, Director General and Dr.

Khursheed Iqbal, Dean of the KPK Judicial Academy for the kind cooperation in arranging this
workshop. Mr. Mustafa Sarwar, Incharge UNHCR Sub-Office, Peshawar also expressed his
valuable views about the workshop and extended heartfelt thanks to all. Finally,
certificates were distributed amongst the participants. Khalida Salimi also presented
shields to Mr. Hayat Ali Shah, Mr. Mustafa Sarwar, Mr. Jabran Nazeer and Mr. Inam Ullah.

Donors